PENGEMBANGAN BAKAT MINAT DAN PENDIDIKAN KARAKTER DI UPTD "KAMPUNG ANAK NEGERI" SURABAYA
Kata Kunci:
Character, Kanri, Interest, Surabaya
Abstrak
Abundant natural resources cannot determine the success of a nation in achieving its national goals, but
human resources can determine its success. In the times of globalization, Indonesian people really need to
develop Human Resources (HR). Thus, character education is needed early on to be able to produce quality
human resources to properly support the implementation of development programs. Indonesia often
experiences crimes, injustice, corruption, and violence against children, which indirectly shows that our
nation is experiencing a character crisis in the society. Therefore, our community service was held in
Surabaya's Kampung Anak Negeri (Kanri) because it was necessary to train and develop the character,
talent, and interests of the young people from an early age. Our research method is observing and
interviewing the people of Kanri so that the community service team could design programs that could be
applied to the children in Kanri. The results of the community service are aimed to optimally develop the
potentials, talents, interests, personalities, cooperation, and independence of learners.

Keywords: Character, Kanri, Interest, Surabaya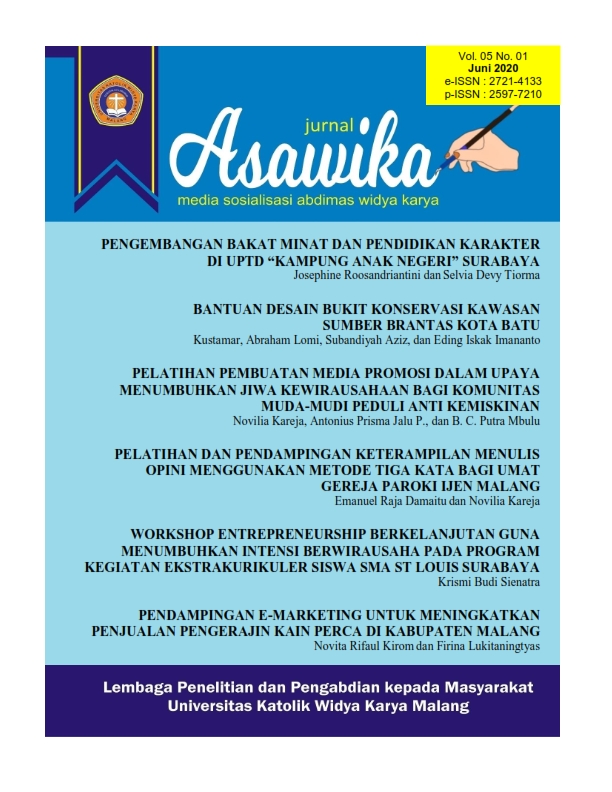 Unduhan